Beach Place North - Ocean City, MD
Description: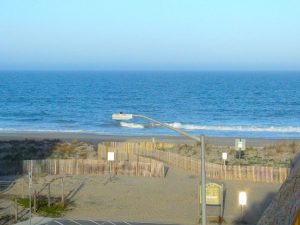 Townhome, 5 Bedrooms, 3.5 Baths, (Sleeps 14)
This owner operated property is the vacation spot for you and your Family. Large groups also welcome.
Huge 5 bedroom 3 1/2 bathroom townhouse in a great mid town area of Ocean City. Enjoy this completely renovated town house, this house has been done from the floors to the baths with all new beautiful furniture throughout. 4 levels that include 5 bedrooms and 3 1/2 baths, ocean and bay views from 3 decks, and less than 60 yards to the ocean! Other amenities include; granite counters, outdoor shower, stainless appliances, washer/dryer and two refrigerators for your large group or family. Beach Place North has a private outdoor pool and grill area as well. 72nd street is the perfect location to access the best of Ocean City. You will be conveniently located within walking distance of great restaurants, shops, stores and close to a bus stop so you can explore all of Ocean City. No worries with that rental weekend traffic checking in on Saturday or Sunday we rent our unit Friday to Friday. This way you will have time to enjoy a full weekend in Ocean City. No waiting in long rental office lines checking in, we will meet you at the door with the keys and answer any questions that you may have. We try to make it easy for our renters.Need more room to pack? We can help with that as well we provide all the bed sheets and bath towels that you will need for your family vacation or off season weekend.
Bring your family and friends and discover Beach Place North # 22. Contact us now as this unit will rent quickly.
During the summer months we rent for full weeks Friday to Friday. We also offer 3 and 4 night weekend rentals during the off season.
This property is owned and operated by Paul and Jessica Lebling. We live locally so we can help with all of your needs. Deal with an owner directly not a Broker or Management company that may not return your calls. Like us on Facebook for off season deals and updates on all of our properties.
High School Senior Week rentals will be consider. Call or e-mail for those rates and open dates.
Rate Information:
Dates
Nightly
Weekend Night
Weekly
Monthly*
Event
Standard Rate

3 Nights Min Stay
$386
N/A
N/A
N/A
Peaceful Season
11/31/2018 - 12/31/2018
3 Nights Min Stay
$350
$495
$2200
N/A
Peaceful Season 2
01/01/2019 - 03/12/2019
3 Nights Min Stay
$125
$155
$850
$2200
Early Spring
03/13/2019 - 04/17/2019
3 Nights Min Stay
$325
$425
$2150
N/A
Spring
04/18/2019 - 05/15/2019
3 Nights Min Stay
$415
$475
$2650
N/A
Late Spring
05/16/2019 - 05/22/2019
3 Nights Min Stay
$545
$655
$3150
N/A
Memorial Weekend
05/23/2019 - 05/28/2019
3 Nights Min Stay
$795
$795
N/A
N/A
Early Summer
05/29/2019 - 06/12/2019
3 Nights Min Stay
$595
$725
$4250
N/A
Summer
06/13/2019 - 06/20/2019
1 Week Min Stay
N/A
N/A
$4650
N/A
Prime Season
06/21/2019 - 08/22/2019
1 Week Min Stay
N/A
N/A
$5150
N/A
Late Summer
08/23/2019 - 09/05/2019
1 Week Min Stay
N/A
N/A
$4400
N/A
Early Fall
09/06/2019 - 09/25/2019
3 Nights Min Stay
$550
$645
$3050
N/A
Fall
09/26/2019 - 10/09/2019
3 Nights Min Stay
$495
$575
$2950
N/A
Fall
10/10/2019 - 10/30/2019
3 Nights Min Stay
$395
$495
$2650
N/A
Peaceful Season
10/31/2019 - 11/27/2019
3 Nights Min Stay
$325
$465
$2400
N/A
Peaceful Season 2
11/28/2019 - 03/11/2020
3 Nights Min Stay
$125
$125
$825
N/A
* APPROXIMATE MONTHLY RATES, ACTUAL RATE WILL DEPEND ON THE DAYS OF THE MONTH YOU STAY
Additional information about rental rates
FEES:
SECURITY DEPOSIT
$ 300
CLEANING FEE
Info Not Available
TAX RATE
All rates include taxes %
ADDITIONAL RATE INFORMATION
No Additional rates


No Booking fees or sevice fees
CANCELLATION POLICY
All money paid will be forfeited in the event of a cancellation.

If cancellation occurs less then 30 days from check in date all rental amount us due to the owner.

The above is how our lease reads. We are easy to get along with. If the property is re-rented all money will be returned.
THE BOOKING PROCESS
Electronic lease will be emailed

Signed lease, half of the rental amount and the $300.00 security should be returned within 72 hours to book the property.

Balance of the rent will be due 30 days before chekcing in.

Security will be retunred within a few days of checking out.

All payments can be made on Pay Pal or by person or business check.
House Rules:
Max. Occupancy: 14
Minimum Age Limit for Renters
Non-Smoking Only
Pets Not Allowed
Children Welcome
Entertainment:
CD Player
DVD Player
Satellite/Cable
Television
Outside:
Balcony
Deck/Patio
Outdoor Grill
Rental Inquiry:
Thank you for your submission.
Property Location: