Grassy Key Family Compound - Islamorada
Grassy Key Family Compound
Description: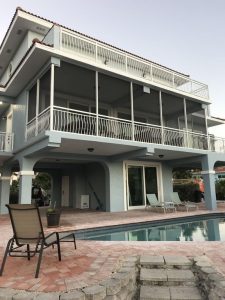 WE HAVE SOLD OUR ISLAMORADA PROPERTY.
COMING SOON!! Grassy Key ( Marathon, Fl.) 9 bedrooms 8 bath spectacular sunsets and wide open bay views, heated pool, gourmet kitchen, boat dockage, storage for dive gear  and fishing equipment, private family compound. This property will sleep 20 to 22, family reunions, work retreats, friends get togethers, small weddings, anniversaries the possibilities are endless. Keep on eye on this web site and our Facebook page for updates.
SANCTUARY FOUND… At the intersection of two very wide sparkling canals sits this lovely, four bedroom, two and a half bathroom Spanish, Modern home.
This owner operated property is always clean and comfortable.
Endless water views delight in every direction – incredible sunsets from the master suite and from the screened-in porch just off the living room. Nice open floor plan, newly tiled floors throughout. Professional tropical landscaping graces this 8000 square foot, parcel. After a long day of fishing, diving or shopping you can relax in the heated swimming pool. We have just recently added a second refrigerator and restaurant style icemaker. They are located in a very large lockable storage area that can also be used to store your fishing equipment, dive gear, bicycles or any other items you may bring for your vacation.
This Non-Smoking home is located on a lovely, quiet cul-de-sac with community beach. The location offers easy boat access to the Florida Bay and the Atlantic Ocean. Boats may be docked at no charge on the 144ft. seawall on the property. The dock is equipped with water and electric. Canal depth is five plus feet.
The house has gone through some major renovations over the past few years. New central A/C and Heat, all new windows and doors, new railing and fenced yard area, new tile inside and out, new grilling deck just off of the screen porch.
Rate Information:
DATES
NIGHTLY
WEEKEND NIGHT
WEEKLY
MONTHLY *
EVENT
Standard Rate

30 Nights Min Stay
$205
N/A
N/A
$6160
Fall
09/01/2020 - 11/30/2020
1 Month Min Stay
N/A
N/A
N/A
$6550
Winter
12/01/2020 - 03/31/2021
1 Month Min Stay
N/A
N/A
N/A
$8950
Spring
04/01/2021 - 05/31/2021
1 Month Min Stay
N/A
N/A
N/A
$7850
Summer
06/01/2021 - 08/31/2021
1 Month Min Stay
N/A
N/A
N/A
$9500
Fall
09/01/2021 - 11/30/2021
1 Month Min Stay
N/A
N/A
N/A
$6550
Winter
12/01/2021 - 03/31/2022
1 Month Min Stay
N/A
N/A
N/A
$9500
* ADDITIONAL RATE INFORMATION:
Pet Fee $225 Half of the rental amount plus the $500.00 security deposit will be due at time of booking. Balance of the rent will be due 30 days before checking in. Security will be returned a few days after checking out. Payment can be made on Pay Pal, personal or business check. Owner's Cancellation Policy canceled bookings will not receive a refund. Approximate monthly rate. Actual rate will depend on the days of the month you stay.
** CANCELLATION POLICY
All funds paid will be forfeited if guest has to cancel. If cancellation is less then 30 days before check in date guest will be responsible for the full rental amount. This is how the lease reads. We are easy to get along with. If we are able to re-rent the property all funds will be returned.
Rental Inquiry:
Thank you for your submission.