Ocean Colony - Ocean City, MD
Description: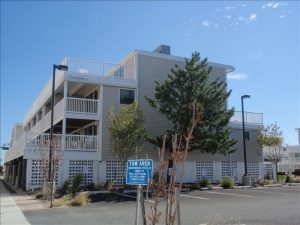 Great owner operated property just 80 yards from the beach. Large end unit townhouse with up to date funrishings, clean and well maintained.
Huge Oceanblock 5 bed/ 4 bath end unit townhome with pool! This unit has great views of the ocean from 3 decks! Watch your friends/family play in the pool from the other 2 decks. The unique design of the ground level suite makes this unit great for 2-3 families to share. This unit is located on 48th street across from the famous Seacrets nightclub. There is a light at the street for easy turning onto Coastal Highway going north or south. There is also a great covered bus stop on this street for getting to all the local hotspots by bus!
Ground Level efficiency Suite (Bedroom 1): 1 bedroom w/Queen Bed & TV, Bathroom w/shower, kitchen and sitting room w/TV, patio w/view of the pool. 2018/2019 renovated
Bedroom 2: Top Floor suite with King size bed & TV, sitting room w/TV and bathroom w/shower. Huge sundeck on this level with great views of the ocean!
Bedroom 3: 3rd floor, king size bed & TV, private deck with ocean views.
Bedroom 4: 3rd floor, 1– twin over double bunk bed, 3 twin beds , private deck with view of the pool.
(Bedroom 3 & 4 share a full bathroom w/Shower and tub on the 3rd level)
Bedroom 5: 2nd floor, 2 – queen size beds, bathroom w/shower and tub , deck with views of the pool.
No need to haul linens, this unit is equipped with all bed linens and towels for families. Please check with the owner, due to COVID 19 guests will have to bring their own bedsheets and bath towels.
There is a full kitchen on the second floor that is stocked with all the equipment to prepare gourmet meals or to reheat leftovers from all of the great restaurants in Ocean City. There is also a 2nd kitchen located in the ground level suite!
There is a large deck with great ocean views off of the 2nd-floor living room.
This is not the normal Ocean City rental, we rent Friday to Friday. No need to wait in long lines at rental offices, we will greet you at the door or send you the entry code ahead of your check in time.  As owners of this home, we take pride in the appearance and cleanliness of the unit. Please notify us of any special needs prior to check in and we will gladly accommodate to the best of our abilities.
We offer this unit for full week rentals in June, July, August, and September. We also offer very reasonable rates for 3 or 4 night weekends during the offseason. Please check our calendar for availability. We fill up quickly due to a high volume of repeat renters.
SORRY NO HIGH SCHOOL SENIOR WEEK RENTALS.
Please give us a call or email with any questions. 443-463-8902
Download Sample Lease
Rate Information:
DATES
NIGHTLY
WEEKEND NIGHT
WEEKLY
MONTHLY *
EVENT
Standard Rate

3 Nights Min Stay
$430
N/A
N/A
N/A
Late Fall
10/09/2020 - 11/05/2020
3 Nights Min Stay
$435
$595
$2850
N/A
Peaceful Season
11/06/2020 - 12/14/2020
3 Nights Min Stay
$355
$495
$2350
N/A
Winter
12/15/2020 - 03/11/2021
3 Nights Min Stay
$250
$250
$1250
N/A
Early Spring
03/12/2021 - 04/14/2021
3 Nights Min Stay
$425
$495
$2200
N/A
Early Spring
03/18/2021 - 04/07/2021
3 Nights Min Stay
$415
$495
$2500
N/A
Spring
04/08/2021 - 05/05/2021
3 Nights Min Stay
$475
$545
$2750
N/A
Spring #2
05/06/2021 - 05/25/2021
3 Nights Min Stay
$545
$695
$3150
N/A
Memorial Day Weekend
05/26/2021 - 06/01/2021
4 Nights Min Stay
$950
$950
N/A
N/A
Early Summer
06/02/2021 - 06/17/2021
3 Nights Min Stay
$625
$825
$4450
N/A
Summer
06/18/2021 - 06/24/2021
1 Week Min Stay
N/A
N/A
$4650
N/A
Prime Summer Season
06/25/2021 - 08/19/2021
1 Week Min Stay
N/A
N/A
$5800
N/A
Peaceful Season 2
12/09/2019 - 03/11/2020
3 Nights Min Stay
$250
$250
$1250
N/A
Late Summer
08/20/2021 - 09/09/2021
1 Week Min Stay
N/A
N/A
$4950
N/A
Early Fall
09/10/2021 - 09/28/2021
3 Nights Min Stay
$555
$675
$3600
N/A
Fall
09/29/2021 - 10/12/2021
3 Nights Min Stay
$495525
$625
$3300
N/A
Fall #2
10/13/2021 - 11/10/2021
3 Nights Min Stay
$435
$575
$2750
N/A
Peaceful Season
11/11/2021 - 12/08/2021
3 Nights Min Stay
$355
$495
$2350
N/A
Winter
12/09/2021 - 03/09/2022
3 Nights Min Stay
$250
$250
$1250
N/A
* APPROXIMATE MONTHLY RATES, ACTUAL RATE WILL DEPEND ON THE DAYS OF THE MONTH YOU STAY
Additional information about rental rates
FEES:
SECURITY DEPOSIT
$300
CLEANING FEE
Info Not Available
TAX RATE
all taxes are included %
ADDITIONAL RATE INFORMATION
All rates included taxes.

No Additional charges
CANCELLATION POLICY
Canceled bookings will not receive a refund.

All fund paid will be forfeited if a cancellation occurs the the guest.

If cancellation is less then 30 days before check in date guest is responsible for the full rental amount.

The above is how our lease reads. We are easy to get along with. If the property is re-rented all funds will be returned.
THE BOOKING PROCESS
Electronic lease will be emailed to the guest.

Signed lease, half of the rent and the $300.00 security deposit should be retunred within 72 hours.

The balance of the rent will be due 30 days before checking in.

Security will be returned a few days after checking out.

All payments can be made on Pay Pal or by personal or business check. plebling@comcast.net 443-463-8902
House Rules:
Max Occupancy 14
Non Smoking Only
No Pets
Entertainment:
CD Player
DVD Player
Satellite/Cable TV
Stereo
WiFi
Suitability
Large family groups
Family Reunions
Share with two or three families
Friends groups
Business retreats
Senior Week Groups (contact owners for rules and rates)
Rental Inquiry:
Thank you for your submission.
Property Location: