Description: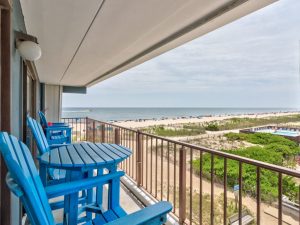 Feel the sea breeze whip through your hair at this dog-friendly Ocean City vacation rental. This two-bedroom, two-bathroom beachfront getaway can play host to up to eight guests, giving them the chance to relax, unwind, and ease into the Maryland beach culture.
Surrounded by a host of activities, museums, dining options, and one of America's premiere boardwalks, visitors will have their choice of attractions to keep them busy.
Kick off the sand before you walk into your oceanfront condo. You'll be greeted by an abundance of light pouring in from the east-facing siding glass doors. Stay up to date on your favorite shows with cable access on the flatscreen HDTV. Make it a movie night with a DVD or watch something on your personal device through the free WiFi. (Please note that the cable package gets reduced to basic during the off-season – November through April.)
Put together a quick appetizer tray in the compact kitchen. Press play on the CD player for some gentle background music while you recline on the balcony. The sound of the waves will relax you in no time.
The plush king bed in the master bedroom will lull you to sleep. The second bedroom features a queen bed and a twin bunkbed. There are also two full bathrooms to choose from. Eight guests and two dogs may stay comfortably here (please note that a small pet fee and a 25-pound weight limit applies).
With access to a private washer/dryer you'll be able to take care of any laundry needs. Flip on the central A/C to cool off after a long day on the beach.
You'll find fun for all ages at the world-famous Ocean City Boardwalk. Carnival games, roller coasters, classic on-the-go dishes, and local crab cakes makes a visit a must. If you want to get out on the ocean, rent a kayak, or canoe from Ayers Creek Adventure.
Feel the stress melt away as you make everlasting memories at this Maryland vacation rental.
Bookings for this property are handled by Vacasa Properties 503-683-7953
No senior beach week rentals.
*Guests under 25 must be accompanied by a an adult over the age of 25.
Rental Inquiry:
Thank you for your submission.