Description: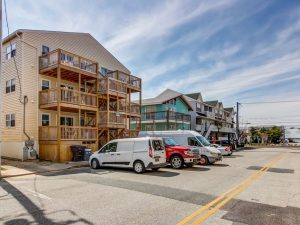 Spice up your next trip to Maryland with this amazing home in Ocean City! A welcoming atmosphere will keep you relaxed between trips to nearby attractions, whether it's the beach just down the street or the multitude of sights downtown.
This home for six has a great location on the northern side of town, just seconds away from restaurants like the Bayside Skillet and BJs on the Water. Even closer are the golden sands of the beach – access to mile after mile of Ocean City's famous Atlantic shores are half a block from your home, making it quick and easy to take the kids out to splash in the surf as you sunbathe with a good book. Don't worry if you'd prefer to take it easy at home – you can still breathe in the ocean air from the comfort of the shaded deck.
Inside, dark hardwood floors create an interesting contrast with the brighter tones of the walls and sunshine trickling in through the nearby windows. The furnishings are an interesting mix of solid, well-loved wooden pieces and more modern pieces with brighter ocean tones. The centerpiece of the living room, without a doubt, is the delightful teal sectional sofa – its cushy contours can easily welcome all members of your group, providing a nice rallying point for kicking back with some cable on the flatscreen TV.
Tired of dining out? Just use the WiFi to find an exciting new recipe and get to cooking! The kitchen boasts a solid selection of appliances, as well as plenty of workspace on the countertops and ample dishware tucked away in the wooden cabinets. Savor your meals at the indoor table for four – and accompanying breakfast bar seats for two – or out on the deck.
Six guests can enjoy this home's three bedrooms at once. Two of the bedrooms have massive queen-size beds for couples, and the master bedroom even features its own flatscreen TV. The final bedroom offers two twin-size beds for kids. After a soothing night's sleep, treat yourself to a refreshing shower – or bath – in either of the home's two bathrooms.
Ocean City staples like Jolly Roger Amusement Park are just a brief drive to the south, but you should be sure not to ignore the plentiful attractions nearby! Neighborhoods just to the west are a perfect place for a morning stroll, letting you follow the rushing water of the canals towards Assawoman Bay. Afterwards, walk by the beach northward until you reach Gold Coast Mall, where a multitude of shopping and dining opportunities await you. Don't forget about Delaware – the neighboring state's bustling town of Fenwick Island is just five miles away!
Place your reservation today and ensure your next beach getaway is one you'll always remember!
All bookings for this property will be handled by Vacasa Properties. 503-683-7953
Rental Inquiry:
Thank you for your submission.